With NET, we support both data storage in a PostgreSQL database (only NET Engineering / NET Field Survey) and the file based data storage with the open source SQLite software.
For an update installation, we recommend making a backup of the projects and the Map 3D system user before starting.
The system requirements can be found on our website at: www.tki-chemnitz.de/en/downloads.html
Preparations and Installation of files
Please read the installation instructions carefully before installation.
Before performing a NET installation, it is necessary to have completed the Autodesk AutoCAD Map 3D installation.
Prior to starting the installation, download all required files from the Installation files section.
Note
NET is available for the current AutoCAD Map 3D version (AutoCAD® Map 3D 2023) and two versions back. Make sure you download the correct version of the installation files, e.g., ""NET-12.3.1-map2021.ex" for AutoCAD Map 3D 2021. Therefore, the installation, setup and functionality of the software require a current version of AutoCAD Map 3D that is supported by NET and the corresponding licenses for data storage in PostgreSQL. Furthermore, it is assumed that a current version of the .NET Framework of Microsoft, currently version 4.8.1., is installed. Please install these programs before installing NET.
For an update installation of NET 10 or higher, please note that you must have at least version NET 8 in order to update to NET 10 or higher. If you are now working with a version below 8, install NET 8 first and then NET 10 or higher.
Note:
Please note that only logged-in users can access the installation files section.
If you have a custom installer, in addition to the standard installation files, you will find another section for your custom installation files.
Re-Installation or Installation update of NET program files
On a workstation with Autodesk Infrastructure Administrator or Autodesk AutoCAD Map 3D installed, install NET using the installation file "NET-x.exe" downloaded from the "Installation files" section. Before installing, close Autodesk Infrastructure Administrator or Autodesk AutoCAD Map 3D. Start the installer by double-clicking.
The installer guides you through the further installation.
Select the language for installation. Confirm with OK.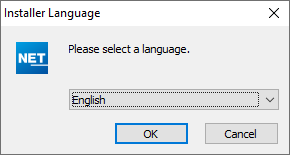 Confirm with Next.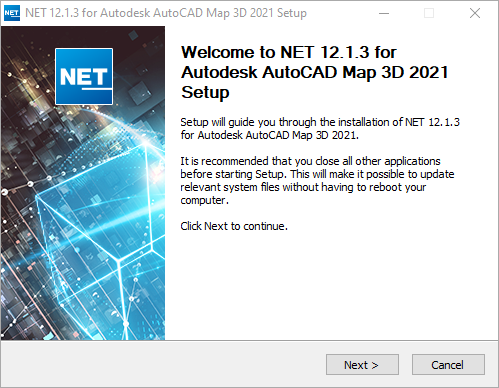 Note
If you have already installed a NET installation, it must be uninstalled beforehand. Follow these three steps:
Step 1: Confirm with "Yes" that you want to uninstall the older version.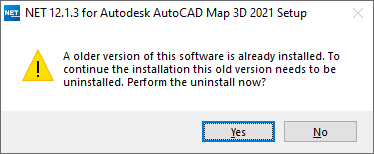 Step 2: Check the specified directory and click "Uninstall"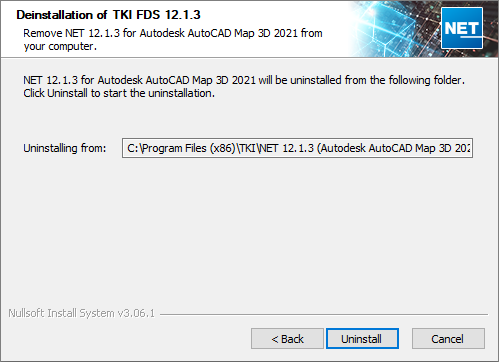 Step 3: Wait until the uninstallation is finished and complete the process with "Close".
Regardless of whether you are reinstalling or installing an update, please proceed as follows:
Read the License Agreement. By clicking "I Agree", you accept the license agreement and can install the software.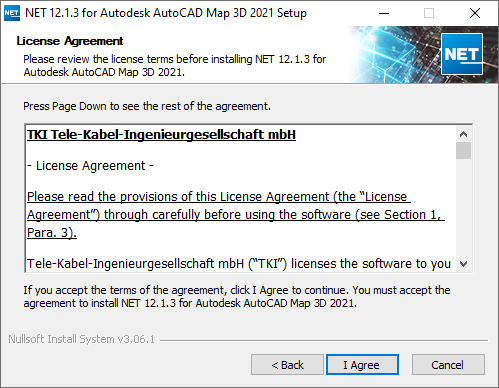 Check the installation paths and select "Next".
5. Accept the selection of the components to be installed. Continue with installation.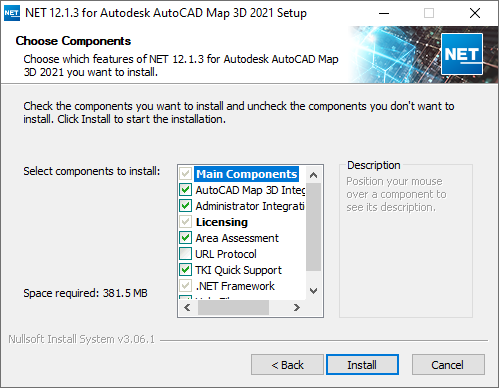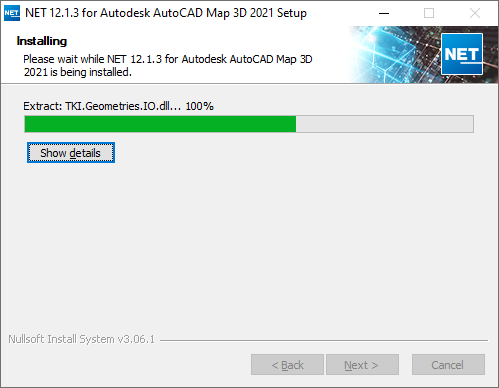 The installation has been completed successfully. Complete the installation by clicking the "Finish" button.
Note
Further information is available for further setting up / updating your NET projects.