You can add a layer of an existing Map 3D connection to the map.
Example of application, in this case a trench layer 
For this, start AutoCAD Map 3D and select the file.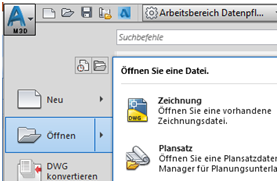 After opening, you will find the corresponding drawing with the objects of the display layer in the middle pane, here "Building (connection status)".
The task window with the display management is located in the right pane.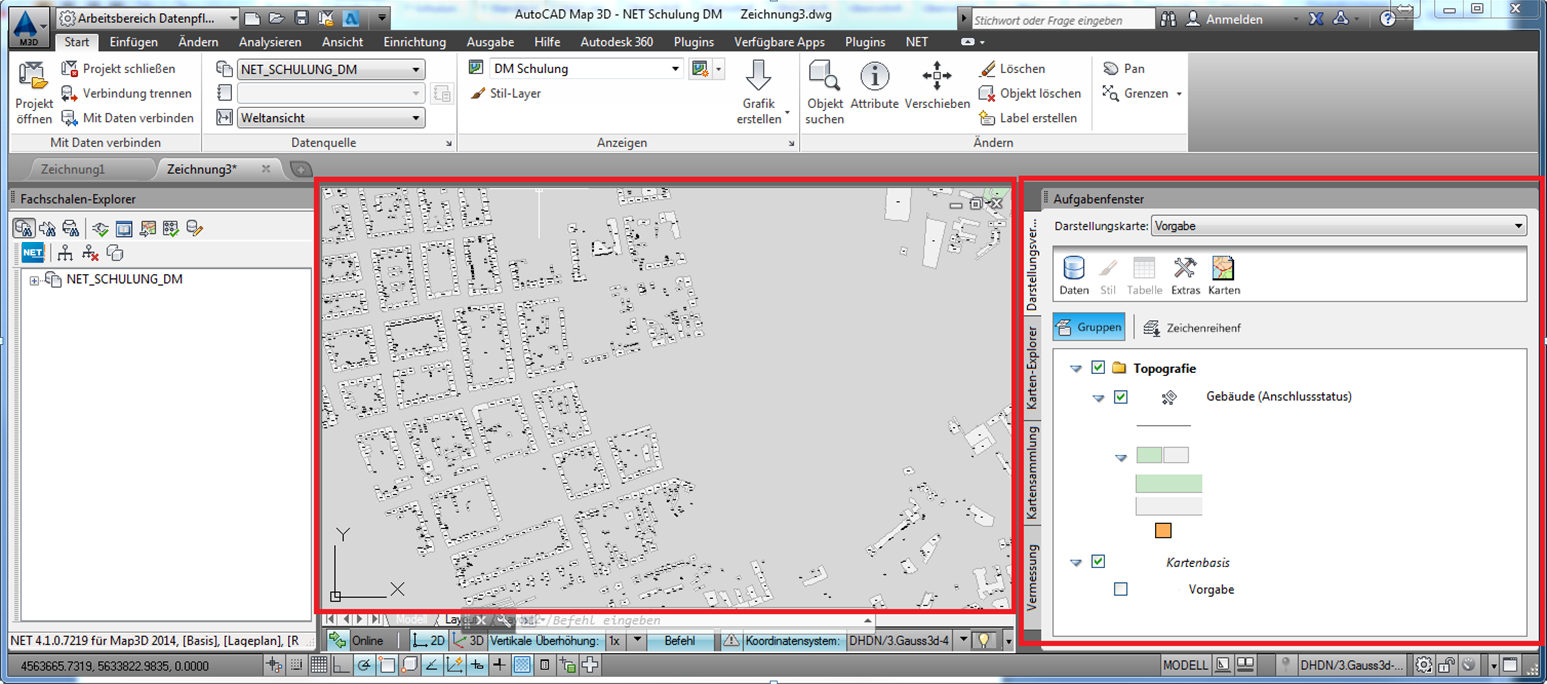 In the application example selected here, only one layer is currently visible in the display management. To add the "trench" layer to the map, left-click on the "Data" button in the task window and select the "Connect to data" entry in the context menu.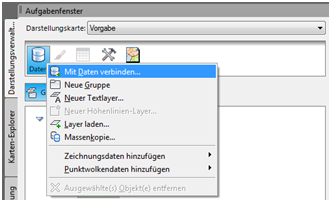 The window of the FDO provider then opens.
This is where you have the option of adding new data connections or editing existing ones. 
Select the already-existing Map 3D connection in the left pane under "Data connections to provider".
All feature classes defined there are displayed in the right pane.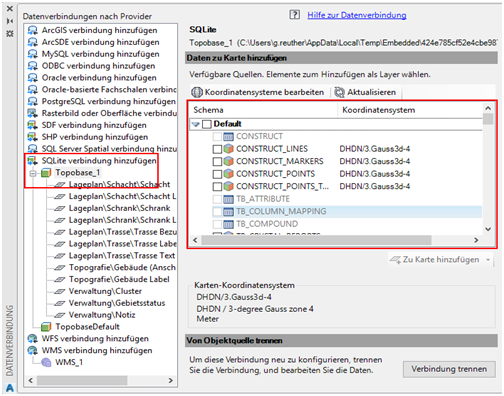 Select the layer—in this case "TC_M_SP_SEGMENT"—by setting a checkmark. 
Note on nomenclature
TC = Tele Communication
M/V = denotes the feature class as Mapping View/View
SP = Survey Plan
SEGMENT = trench


There are two options for adding the layer to the map:
adds the layer to the map without a filter

 

or

adds the layer with the appropriate filter to the map
The option "Add to map with query" opens a window in which the query can be created.
To do this, select, for example, the property "Type", which has the value "TB Walkway".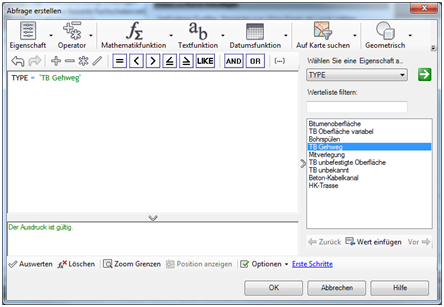 The expression can also be evaluated with

. If the expression is valid, confirm by clicking "OK". 
The layer is added to the map, with only the objects present in the filter being displayed and loaded (better performance).
Without the filter, all objects are displayed and loaded.
Result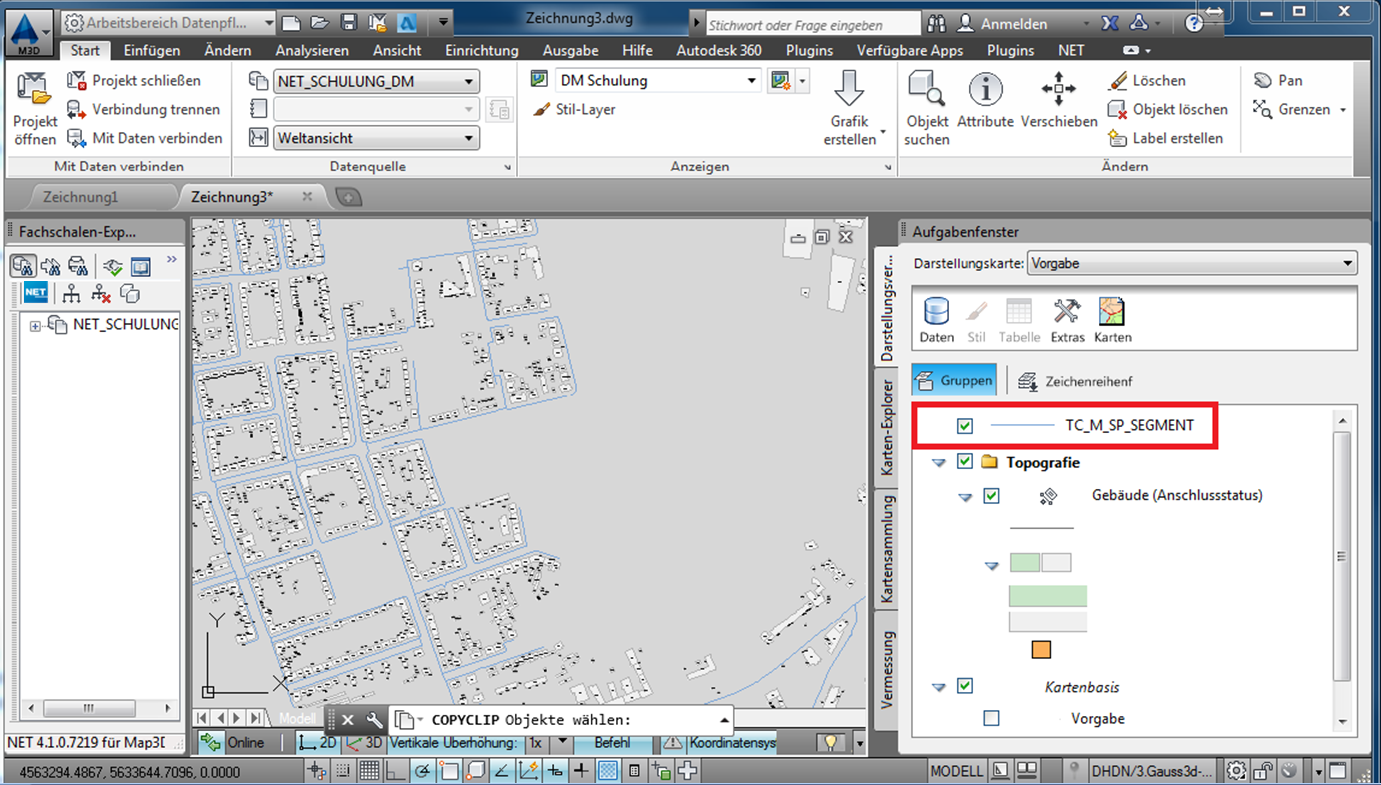 Now save the display model by going to the "Start" tab and selecting "Save display model as" (see screenshot). 

Another window opens.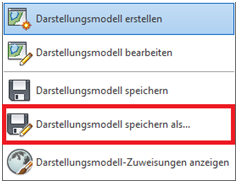 Save the display model under a new name in a new folder.
In the repository, select an appropriate storage path.