The duct path overview provides the user with a meaningful overview of the course of a selected duct. The result is a tabular overview of the duct including all associated points. The "Highlight duct path" button gives the user the option of highlighting the corresponding duct pathing in the graphic.
In the form for the duct, the context menu is opened by right-clicking on the corresponding duct in the duct-assignment overview and the Duct path overview is selected.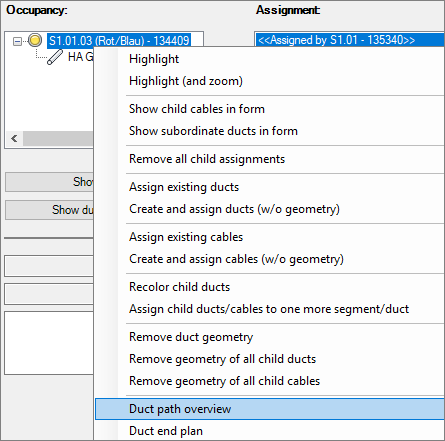 The following overview opens.

| | |
| --- | --- |
| # | The sequential number within the overview is displayed. |
| Follows on | The number of the element followed by the current element is displayed. |
| Element | The feature class to which the current element belongs is displayed. |
| Name | The name of the current element is displayed. |
| Color | The color of the current element is displayed. |
| Type name | The type of the current element is displayed. |
| Length | The length of the current element is displayed. |
| Element Type | The feature class of the higher-layer object is displayed. |
| Name | The name of the higher-layer object or the number of higher-layer objects is displayed. |