The duct insertion defines the introduction of a duct into a building or a manhole. The form opens in Industry Model Explorer > Duct > Duct insertion.
Duct insertions are created by means of the Create duct insertion workflow.
Tabs
In the "General" start tab, users can find all the details of the duct insertion and the connected duct, as well as information on the building or manhole in which the duct insertion is located.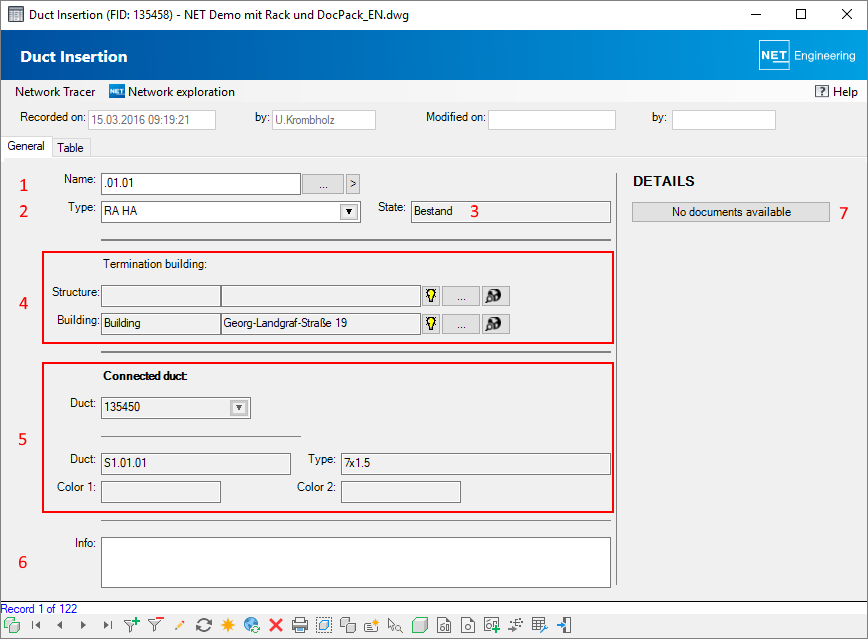 | | |
| --- | --- |
| Name | A name can be assigned for the duct insertion. Clicking on opens the point form for the duct insertion in the current record. The button opens the point forms for all filtered duct insertions. (1) |
| Type | The type of duct insertion is displayed. Double-clicking on the list box opens the detailed form for managing the various duct-insertion types. (2) |
| State | The state assigned to the duct insertion in the point form is displayed. (3) |
| Termination building | Depending on where the duct insertion is located, the higher-layer point—manhole or cabinet—or the building is displayed under Drop location. (4) |
| Connected duct | This is where you will find the general information about the duct that ends at the duct insertion. (5) |
| Info | Information on the duct insertion can be entered. (6) |
| Documents | This displays whether documents have been attached to the form. (7) |

Menu items
A connection overview can be displayed via "network exploration".