Designation-scheme type
In NET Engineering, users have the option of defining various types of designation scheme themselves. The form is opened by double-clicking in the type field in the designation scheme form.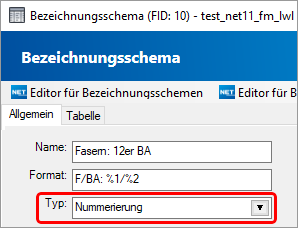 There are two types of designation scheme: numbering and color.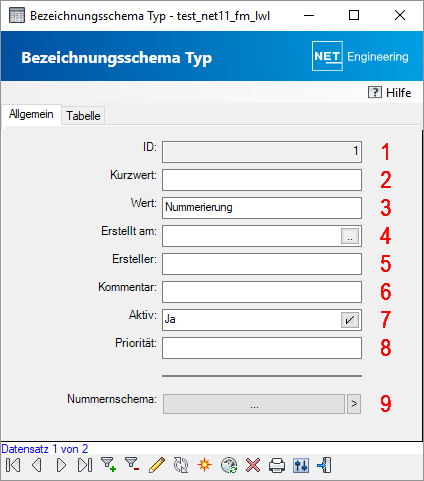 | | |
| --- | --- |
| Attribute | Description |
| ID | The ID of the record is displayed. (1) |
| Short value | A short name for the designation-scheme type can be entered. (2) |
| Value | Input of the name for the designation-scheme type. (3) |
| Created on | The date when the record was created can be selected. (4) |
| Author | The name of the person who created the record can be entered. (5) |
| Comment | A comment on the record can be entered. (6) |
| Active | Only active designation-scheme types can be selected from the drop-down list in the detailed form for designation schemes. (7) |
| Priority | A priority for the designation-scheme type can be assigned. (8) |
| Numbering scheme | Clicking on lists all designation schemes that use the current designation-scheme type. The button displays all designation schemes to which a designation-scheme type has been assigned in the filter. (9) |

Designation-scheme attribute type
Double-clicking in the "Type" field in the Designation attribute form opens the designation-attribute form. The attribute type is defined in this form. One or more values can be assigned to an attribute type. These values are displayed in the numbering-value form. New designation attributes can be created using the menu item

.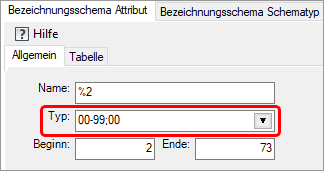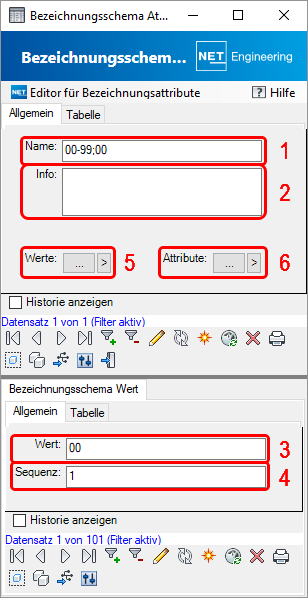 Name
Attribute-type name. (1)
Info
Descriptive information about the attribute type. (2)
Value
Value of the attribute type. The values can be numbers, letters or words. (3)
Sequence
A sequence is assigned to the value from (3). Reference is made to these sequence entries in the Start and End fields in the Designation-attribute form. (4)
Assignments
All values that this attribute type can assume are displayed. (5)
All attributes that use this attribute type are displayed. (6)