If you want to modify the geometry of a Result: Clusters from the calculation, this must be converted into an input cluster. To do this, use the workflow described below.
Start the workflow by double-clicking the corresponding entry in the workflow explorer under "Lock Results", right-click and execute or by clicking the "Execute" button at the bottom right of the workflow explorer.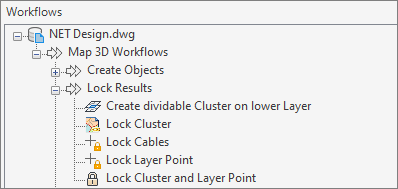 Select the cluster to be locked in the graphic.
Note
When locking the Result: Cluster is transferred to the "input" cluster object class.